Lantos et al rip Yahoo, Google, MSN, Cisco a new ethical asshole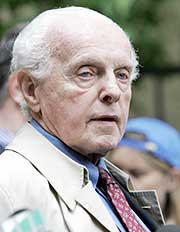 Tom Lantos, Democratic congressman from California (top) and New Jersey Republican congressman Christopher Smith.
San Jose Mercury News (California USA)
Wednesday 15 February 2006

Tech execs get Congressional
scolding for helping
censor Internet in China

By Jim Puzzanghera
Mercury News Washington Bureau



WASHINGTON --

Halfway through an extraordinary congressional hearing Wednesday about the role of U.S. high-tech giants in censoring the Internet in China,

Rep. Tom Lantos

tried to cut through all the legalese.


Executives from

Google, Yahoo, Cisco Sy
stems and Microsoft

had defended their actions as the unfortunate price for entry into the world's largest market, while several lawmakers castigated them as collaborators with a repressive regime. Raising the specter of corporate cooperation with

Nazi Germany

, Lantos, D-San Mateo, the only Holocaust survivor in Congress, asked in his deep Hungarian accent:

"Can you say in English that you are ashamed of what you and your company and the other companies have done?"



It was the dramatic high point of a seven-hour hearing in which executives from some of high-tech's most recognizable brands for the first time faced the type of congressional grilling normally reserved for old-line industries accused of corporate greed or scandal.



"I am not ashamed of it, and I am not proud of it,"

said Elliot Schrage, Google's vice president for global communications and public affairs, who admitted the company self-censors search results on its newly launched China site to comply with Communist Party laws outlawing terms such as

"democracy"

and

"human rights."



Though neither admitted to being ashamed, Google and Yahoo went the farthest in lamenting their corporate practices in China. Google would consider pulling out of China if censorship does not improve over time, Schrage said.

Executives from Cisco Systems and Microsoft were more staunch in saying their role in the country's Internet services will have a democratizing affect over time and the benefits outweigh the drawbacks.

The answers weren't good enough for several lawmakers at the joint hearing of House subcommittees dealing with human rights and Asia.

Rep. Chris Smith, R-N.J.

, who convened the hearing, said he will introduce legislation today to try to counter what he called China's "cyber sledgehammer of repression" by placing restrictions on companies operating there and

calling for a U.S. corporate and government push for "global Internet freedom."



He and other lawmakers urged the companies to work to develop a code of conduct for U.S. companies operating in China and other repressive countries, which they agreed to do.

"Whether its witting or unwitting, once you find out that you've been complicit with a dictatorship -- you've got to reform what you're doing," Smith said in an interview after the hearing. "I hope they take some of that back and start really robust discussions in their own boardrooms because this is very serious stuff."

The hearing came as lawmakers and human rights activists have focused increasing attention on China's censorship and surveillance of the Internet. The companies voluntarily agreed to attend, although Smith had the power to subpoena them. Sen. Lindsey Graham, R-S.C., is considering pushing for a similar hearing in the Senate.

Likely because of the pressure, the State Department Tuesday announced a new Global Internet Task Force to try to minimize censorship.

"We certainly need to find a way to maintain the promise of the technology without acquiescing to the censors," James Keith, the State Department's senior advisor for China and Mongolia, testified at the hearing.

High-tech executives got an earful from angry lawmakers Wednesday.

"Shameful," "sickening collaboration," and "a betrayal of America's ideals,"

were among the terms tossed out.

"

Your abhorrent activities in China are a disgrace," Lantos said. "I simply do not understand how your corporate leadership sleeps at night."



Mark Chandler, Cisco's senior vice president and general counsel, denied the company made any revisions to routers it has sold to China to allow for police monitoring, saying the capabilities to block Web sites is a standard feature used in other countries to filter out pornography or viruses.

But Chinese human rights activist Harry Wu displayed Cisco brochures from China at the hearing touting its work on police systems.





Yahoo also took fire at the hearing for its 2004 decision to turn over the e-mail address of a journalist Shi Tao to the Chinese government, leading to his arrest and 10-year prison sentence for divulging state secrets. Michael Callahan, Yahoo senior vice president and general counsel, said the company did not know who the e-mail address belonged to or why the government was seeking the information when it complied with the government order.



"I don't think it would be appropriate for me to sit in my office in California and order a Chinese citizen in our Beijing operation not to follow a lawful command," Callahan said.

"We are very distressed about the consequences of complying with Chinese law."



All four companies said that following Chinese law is a requirement of doing business there, and if they were not operating in China, other companies would be doing the same work. Jack Krumholtz, Microsoft's associate general counsel and managing director of federal government affairs, said it would be a "lose-lose" situation if U.S. tech companies simply pulled out of China, leaving the market to competitors.

Some lawmakers recognized the dilemma high-tech companies face in weighing concerns about human rights with responsibility to their shareholders as China's Internet market explodes.

Rep. Robert Wexler, D-Fla., noted the United States made a similar decision in granting permanent normal trade relations to China in 2000 despite human rights concerns and must also make tough decisions regarding its relationship with the communist country.

"They are in a no-win situation, these companies," Wexler said.

"I don't know if I agree or disagree with the way they've behaved."



Contact Jim Puzzanghera at jpuzzanghera@krwashington.com or (202) 383-6043.